Winter Gathering
2020 Report
The 2020 Winter Gathering (Bum Freezer) was held at Promenade park, Maldon, Essex on Sunday the 12th of January 2020.
As many of you already know, the bum freezer has been going for many years nad has also been managed by many different groups throughout these years. Starting Starting in Heybridge Basin, it eventually moved to the Mill Beach Pub, before this venue closed, which meant it needed a new home. As luck would have it, we were given permission to use Promenade Park in Maldon by Maldon District council.
The 2019 event went so well, we decided to return to the park for this year's event, so on a cold and overcast morning of the 12th January, our advanced team arrived to set out event control. There was another event taking part in the park, so we had to wait for this to finish before other vehicles could join them in the lower part of the greenery. Soon there were all sorts of vehicles arriving with a mix or military, classic cars and motorbikes. There was also some filming going on in the park, however to the American production companies disappointment, their quaint, quiet old English park was soon turned into a major vehicle event, and they soon beat a hasty retreat.
It was great to see so many members of the public admiring members vehicles, with the car parks being busy and lots of people around looking at the vehicles. With around 80 vehicles attending, this year's event was a great way to start the year, and something to be repeated next year! We want to thank all our volunteers, the people attending and Maldon District Council, who allowed the event to happen. there are some pictures from the Winter Gathering below, and if you weren't able to make it along to Promenade park in 2020, there is always 2021!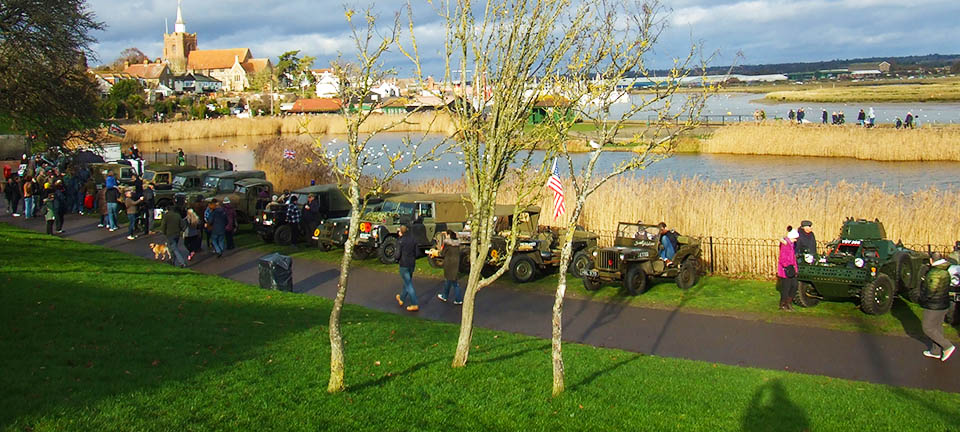 It was also nice to have a great article written about the event by
Bryony Ormes
of the
Maldon Standard
- you can see their article about the Bum Freezer here:
Maldon Standard story about the Winter Gathering