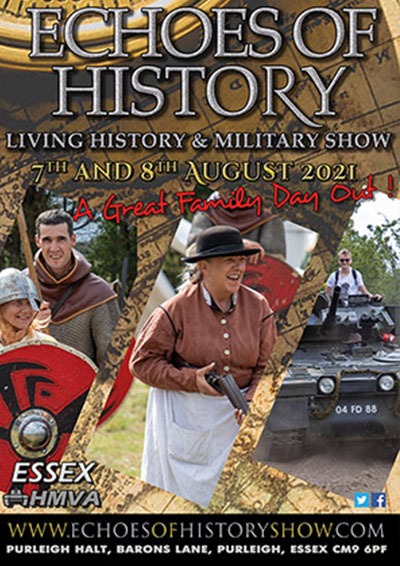 Echoes of History 2021
I hope you're all as excited as we are about Echoes of History 2021

We would like to thank everyone for your support and understanding regarding postponing the 2020 show, we hope that you and your families continue to remain safe and healthy during these challenging times and we look forward to welcoming you back to Echoes of History 2021 on the 7th and 8th of August 2021.


Questions and Answers:
A: Planning has already started for 2021, with the event taking place on the 7th and 8th of August 2021 – the Echoes of History website has already been updated and is now available, and the show team are working on their various projects.

We intend to continue to keep the best hygiene practices in place, with thorough cleaning of toilets, water points and public areas throughout the day. Last year our toilet cleaning team and volunteers worked incredibly hard cleaning, checking, and re-stocking public facilities. Our first aiders will be on site along with our security team.

We can announce that we have also decided to help support families in these difficult times - up to 4 children will be able to enter free per adult ticket purchased. As a result, family tickets will therefore no longer be issued. The Adult & Concession ticket prices for 2021 will be frozen and remain the same as 2020 prices.

A: The Echoes of History Show is the main fundraising event for the Essex HMVA. We are a charity, the charity is 100% staffed by unpaid volunteers who put together a number of events throughout the year including the Winter Gathering, Maldon Armed Forces Day and this event. Many of our events are free, so we rely on this event as our main source of income.

The charity was formed 6 years ago to continue what many of the team were already doing for other organisations but in a more focused way. We have members not just in Essex, but from all over the UK as well as Europe. Our members have a broad range of interests, with some who are interested in vehicles, while others are more focused towards military history or artifact collecting. Being so diverse has contributed to our ability to continue to grow.

We always welcome new members who wish to support us and many contribute to this even further by sharing their experiences in military service.

We have a free programme of visiting schools, and other clubs, Army reserves, WI's and groups giving talks, lectures or "see and talk" events, which we expect to return to once the Coronavirus restrictions are lifted and it is safe to do so. If you have a group or a club who may be interested in learning more, please get in touch.

We want to thank everyone for their support, especially through these difficult times. We have been so lucky through the years to have an incredibly loyal following and could not continue to do what we do without your support.

We sincerely hope that everyone continues to remain healthy and safe and we look forward to welcoming you to Echoes of History 2021.